WE CREATE | WE BUILD | WE REFURBISH | WE CARE
Creating Your Dream Kitchen: The Expertise of Wolf and Young LTD's Kitchen Planning and Design Services
Kitchen Planning: We can connect you with the best Howdens, Wren or Magnet designers
Your kitchen is the heart of your home, and it's important to make sure that it's functional, stylish, and tailored to your needs. Whether you're planning a complete kitchen remodel or simply looking to update a few key features, the team at Wolf and Young LTD offers expert kitchen planning and design services to help you create the kitchen of your dreams.
At Wolf and Young Ltd, we understand the importance of understanding our clients' needs. That's why we connect you with the best designers from Howdens, Wren or Magnet. Our dedicated designer will visit and measure up your kitchen professionally, and give you with the first kitchen plans based on your conversation. They will also advise you on how to choose the color, the latest trends, and the best appliances you can get. Our designers are experts in the field, and will help you with kitchen design ideas.
You can visit the Howdens, Magnet or Wren kitchen showroom to get a better idea of what your kitchen will look like. Once you find something that works for you, our designers will provide you with a 3D model of your kitchen. Together with our designers and carpenters, we will advise you on the best way to choose and ensure that your kitchen remodel is completed on time and on budget. Our goal is to create a kitchen that is not only functional and stylish but also tailored to your specific needs and budget.
Our kitchen planning and design services include:
Initial consultation: We'll meet with you to discuss your needs, preferences, and budget.

Kitchen design: We'll create a custom kitchen design that is tailored to your home and lifestyle.

Space planning: We'll make sure that your kitchen is functional and efficient, with plenty of storage and counter space.

Material selection: We'll help you choose the right materials and finishes for your kitchen, including cabinetry, countertops, and flooring.

Project management: We'll oversee the entire kitchen remodel, from start to finish, to ensure that everything is completed on time and on budget.
At Wolf and Young LTD, we pride ourselves on providing high-quality kitchen planning and design services that are both professional and budget-friendly. With our expertise and attention to detail, you can be sure that your new kitchen will be both functional and beautiful.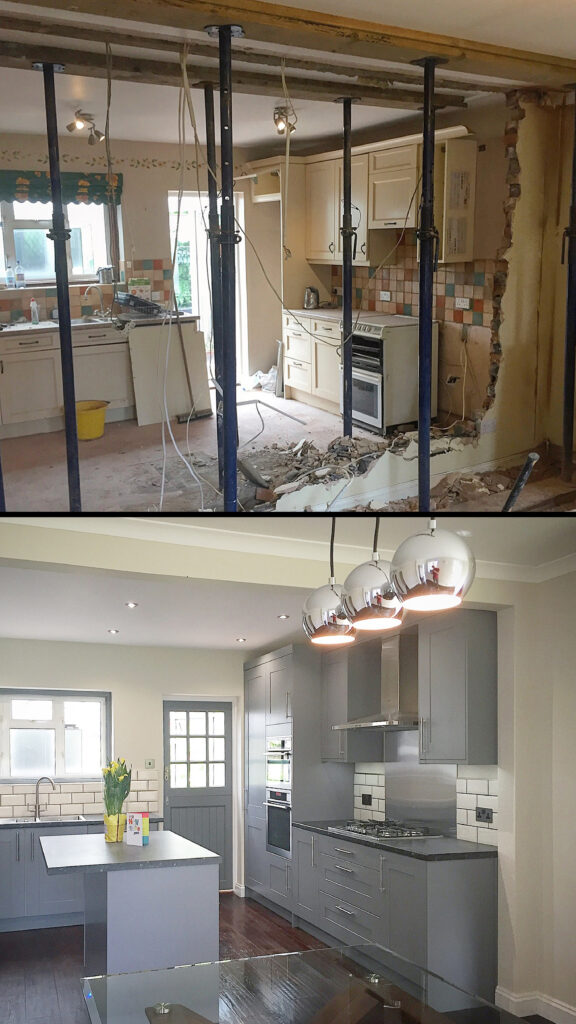 Our ability to take your vision and ideas and turn them into stunning designs that incorporate superb workmanship and craftsmanship is recognized across the UK. We pride ourselves on our ability to provide you with a beautiful living space that has been designed around your needs. Transforming your home is simple when you come to us. We work with you, agree on a budget and a time frame then we deliver. We are highly regarded across the area because we have worked with many clients throughout the years, all of which have benefited from an exceptional level of care, quality and professionalism.
Regardless of your ideas or needs, our service is designed to work with you. We firmly believe that every project has to built around a healthy relationship between our clients and us. This enables us to work together to ensure that the completed project meets the specific needs of our clients. Our refurbishment service is designed with you in mind, so whether you want to turn your ground floor into an open-planned living space or you want to create a kitchen that captures the attention of everyone who visits your home, we have the ideal service for you.
WHICH WOULD BE YOUR PROJECT WE CAN HELP WITH?